Allen Christie returns to an inspirational stage in Stony Plain

By Thomas Miller, Spruce Grove Examiner/Stony Plain Reporter
Thursday, September 5, 2013 5:36:47 MDT PM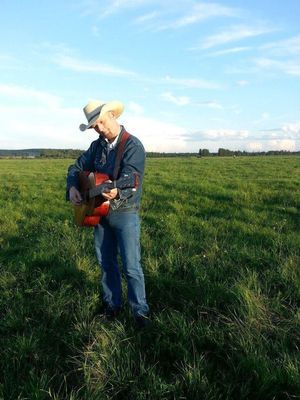 Allen Christie, an Alberta roots musician, loves to perform at the Early Stage Saloon in Stony Plain. He'll be appearing there again on Saturday Sept. 14. - Photo Supplied
    For Alberta roots musician Allen Christie, performing at the Early Stage Saloon in Stony Plain isn't just another show.
He's made friends at the saloon, and on the long drives home from Stony, he even draws inspiration from his shows there, with songs coming to him during those quiet moments after the performance.
"I have lots of time to think, usually, when I'm driving. I know one for sure that wrote on my way back from there. That one is called Tell her every day. It's actually the first track on the album (The Brand)," said Christie.
"It's just a song about a guy who loves a girl and tells her he loves her every day."
Christie made music his full-time job 15 years ago after playing part-time for about 10 years before that and it's a decision he's glad he made.
"It's something I've always wanted to do," Christie said.
"I've been a songwriter for many years, I had just decided that I had enough working for other people — why not do it for myself, so that's what I'm doing.
"I don't see an end in sight. I really enjoy doing it. I enjoy the people I work with."
This year he and his band have travelled all over Western Canada, though in the past they've travelled all over North America, stopping in major centres such as Las Vegas and Fort Worth.
But for these Albertan musicians the music is very much about their home province.
Christie said he allows some of his family history to seep into his music, most of which is western.
"I grew up around Caroline, Alberta and there's a lot of cowboys and western culture out there," Christie said. "Even today most of my friends have cattle ranches and horse training and stuff like that.
"My family came from rodeo and horse training so that's just my roots.
"We haven't really got anybody in the family that's been doing oilfield or anything like that, mostly just cattle and rodeo."
Christie's family goes back nearly 100 years in Alberta and his grandfather even reached the pinnacle of Alberta rodeo — the Calgary Stampede.
"My grandpa, back in the 20s his dad got our farm and he was (on the rodeo circuit) in the 40s and 50s, won the Calgary Stampede in 1955," said Christie. "Later on in his life he got to help out a few other younger cowboys down the trail, always had his hand in rodeo."
Though that wasn't Christie's path, he and his band put on a great show in their own right.
Christie and his band will take the stage at 8:30 p.m. on Sept. 14 at the Early Stage Saloon in Stony Plain.
The Early Stage Saloon is located at 4911, 52 Ave., Stony Plain.
For more information on Christie and his music visit www.allenchristie.net.
Caroline singer/songwriter Allen Christie at home on stage
Tuesday, Jul 19, 2011 06:00 am | Jared Siemens
Photo Submitted
Allen Christie is bringing his acoustic-driven blend of folk-roots music to Tracks Pub Saturday, July 23 at 8 p.m.
Tracks Pub is hosting singer/songwriter Allen Christie, who will be tearing up the stage Saturday, July 23 at 8 p.m., with his acoustic-driven music that blends the influences of western, folk, and roots genres.
Allen cites Willie Nelson, Ian Tyson, Dwight Yoakam, and Hank Williams as sources of inspiration, and honours Williams with a reference at the beginning of one of his new songs.
"I wrote this song with Hank Williams and Jack Daniels," Christie said, quoting his own joking introduction.
He describes his sound as being folk-roots based with a western flavour, and is hesitant to use the word "country," when describing the genre of music he plays.
"When I think of country, I think of Toby Keith and all those guys. It's not that."
Growing up on a farm eight miles north of Caroline has definitely had an impact on him, both sonically and lyrically, he said.
Christie listened to country music on CKGY (Red Deer) radio, watched family bands play at local dances, and admired his fiddle-playing uncle.
"I was just soaking it all up," said Christie.
"A lot of the characters from the area sneak into my songs. If it's not personal experiences, it's stuff that people have been telling me about."
His most recent work has taken what he calls "a comical twist."
"I think you're going to have to come and check out the show to see what I mean," he says with a chuckle. "Things like riding your horse into the bar – I wrote a song about that."
So has he done this himself?
"I'm not going to say I haven't," said Christie through a laugh.
On "Alberta May", a song that seems to use the unpredictable weather to personify the indecision that often plagues relationships, Christie croons in a western brogue:
What's with the spring up here in Alberta? / Weather don't know what to do.
"It took me two years to write that song, and I only wrote it in the month of May," said Christie of the track from 2006's The Last Rodeo.
It was partially inspired, he says, from a time it snowed immediately after he had cut the grass at his Alhambra, Alberta home at the end of May.
In the 12 years Christie has been making music full-time, he has released four albums, and is currently in the studio working on his fifth album, which has yet to be titled.
"There might be two albums there. If I don't quit writing soon, there will be. I've just been a writing fool here lately."
At least one new album will drop this winter, but Christie said he hopes one will come out in time for his fall tour with Ryan Cook, which begins in late September.
The fall tour will find Christie in various places across Eastern Canada, with a handful of those shows being an opening act for Travis Tritt.
He and his full band were in Olds at Tracks Pub about three months ago, but this time he will be bringing only the four-piece band.
"When I'm up on stage, I'm super at ease. It's kind of like my house. I just treat everybody like they're in my living room."
He avoids a separation between performer and audience, making it, "More of a conversation than a show. I love it."
"Bring 50 of your drunkest friends," said Christie with a hearty laugh.
---
Getting back to his roots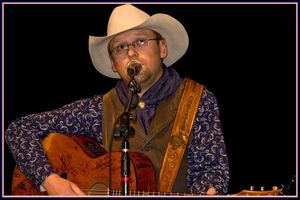 By Daniel Austin
Posted 1 year ago
He's drank moonshine with Stonewall Jackson and has been called the new Ian Tyson— by Ian Tyson. Music fans can see Allan Christie, one of Alberta's most talked about Western folk and country roots artists, perform every Wednesday at the Blue Dog Cafe.
Christie moved to Cochrane in May for a teaching position at Phantom's Music. But the in-demand musician has spent most of the summer touring and says he only spent three nights sleeping in his own bed in the last month.
In spite of his hectic road schedule, Christie says the depth of Cochrane's musical and artistic talent has already left an impression on him.
"Cochrane's got amazing talent," he says. "Not just for the musical talent but the arts in general are really well supported. I've met a lot of good friends in Cochrane and I've never felt unwelcome in this town."
Christie first began playing with a band 20 years ago, but since devoting himself in 1999 to being a full-time professional musician, he's perfected his addictive blend of roots, country and folk. His most recent album Banjos, Broncs and Buckaroos mixed guitar, banjos and fiddles to create a deeply personal sound that was unmistakably Albertan.
He sings about everything from days on the ranch to nights at the rodeo with an authenticity that, unlike many of today's modern country superstars, comes from growing up in a ranching family.
"I grew up on a farm up north by Caroline and we had a bunch of cattle and horses and pretty much everybody I know from up there is ranching and farming," he says. "My grampa won the wild horse race in the Calgary Stampede in 1955 and he's pretty influential in my music."
But while Christie may have been born and bred in rural Alberta, his talent has led him to stages across the continent. Every year he plays the Canadian party at the National Finals Rodeo in Las Vegas and has toured everywhere from Louisiana to the Yukon.
"They love the Western folk down in the States, especially the ranchers and the farmers. It seems like everywhere I go they're telling me stories about Ian Tyson being there on such and such a date."
Christie says that while he listens to a lot of modern country music, he believes farmers and ranchers relate to his music because it maintains a more traditional story-based songwriting style.
"Country's taken a turn more towards an urban sound. There's still some great songs in the top forty but our music is really story-based and life-based. It hits home with a lot of ranchers and rural people living in the country."
Let's give a big Cochrane welcome to a new addition to the community: western-roots singer Allen Christie.
As a songwriter, guitarist, banjoist, writer, producer, and teacher, Christie has thrown himself into the music world headfirst as a full-time musician for the last 10 years.
He has shared the stage with the likes of Ian Tyson, Michelle Wright, Fred Eaglesmith, Stephen Fearing, Corb Lund, Dick Damron and Gary Fjellgaard.
For years, Christie has contributed to the music world by being a hired gun, fronting his own band — which for all intensive purposes shall be referred to as the Allen Christie Band, performed solo and unplugged and rocked every toe-tapping tavern in the west.
"I personally think Allen is the next Ian Tyson," says Gary Lefebvre of Phantoms Music, who welcomes Christie as the newest teacher at the shop, and would provide Christie with all the work he could handle if he wasn't so busy touring and performing all the time.
Life on the road is a familiar place for this Caroline-native cowboy, who is soon to be hitting the road with mother-sister duo Joanne and Haley Myrol.
A storyteller first and foremost, Christie entertains audiences everywhere with his Alberta-rooted stories, based on his cowboy background, traditional western musical influences and encounters on the road.
Sometimes he backs himself with his band, other times with nothing more than a guitar, banjo, warm voice and captivating stage presence.
"I like bringing a small town-feel with me wherever I go," explains Christie, who loves the rush of being on stage — a feeling that keeps most musicians going despite the pitfalls and hardships of the business itself.
"Just being able to go play my own music, look out at the crowd, and they're singing "Alberta May" with me . . . that's a really good feeling."
On his own music, Christie feels he has finally come into his own and is looking forward to the release of his third CD, Banjos, Broncs and Buccaroos. He has been developing his songwriting, and has become more involved with the production of his music, which despite a heavier workload allows an artist more room for creative freedom.
"I've become more in control of the production as time has gone on. I didn't produce my first CD, and it had more elements of pop than it would now. My second CD was more bluegrass cross-over stuff. But this one I kind of like it. It's more traditional," explains Christie.
He said there is a difference between western and country music. Much of modern country music is intertwined with pop. It tends to be more mainstream and it dominates the radio stations and CMT music video worlds. Western music, on the other hand, is more traditional singer-songwriter based. The stories told through the western genre are lifestyle derived, less flashy and more rootsy. That, and the listening crowds are different.
Country music has a more modern, younger following, whereas western music is appreciated by a listening audience — a crowd who actually remembers the music the next day, rather than how many shooters they had the night before.
In a sense, there is a timeless element with western music, and an ongoing homage to the creators of the genre — originators like Waylon Jennings, Johnny Cash, Hank Williams Senior, Merle Haggard, Ian Tyson, June Carter and Dolly Parton.
And so onwards Christie goes, keeping true to the western roots of his musical family and the mentors from generations passed.
To learn more visit MySpace.com/allen_christie. He will be gracing the stage of the Blue Dog Cafe May 12 for a dinner and jam session starting at 7 pm.
Cowboy Balladeer – Allen Christie

By: Lynda Thurston

When it comes to Cowboy music Alberta has a champion in the multi talented Allen Christie. A Native son of Caroline, Alberta Christi won himself a following among rodeo cowboys when he penned the catchy but accurate tune 'Old Bronc Saddle.' Captured in the songs' lyrics is a nod to the legendary Harvey Northcott, as well as the stock of the Calgary Stampede wrapped in the basic construction of the Bronc saddle, which Christie referred to as a "rawhide lazy boy."

Christie grew up around cowboys in the Innisfail, Caroline, Rocky country and comes from a family immersed in the western life. His older brother, Bruce Christie was CFR qualifier in the calf roping, and his late brother Kevin, a gifted horse trainer. His sister, Jody Laitre is a saddle maker. Allen, however, took to music like a duck takes to water. "I first picked up the guitar when I was six. My family was musical and I remember hearing the banjo licks to the Beverly Hillbilly theme song and thinking I want to do that."

Today, Christie is a multi instrumentalist who shines on guitar and banjo and plays most anything with strings.

In the past 20 years Christie has seen his music evolve from the lively energies of a youngster playing 6 nights a week in a bar to a respected songwriter and musician performing his own material almost exclusively.

Christie is passionate in an understated way about original Cowboy music. "In Canada we have no real way of saying this is Western music unlike Texas or the United States where roots music and western swing have a large following and a label." "But it's out there and in a way that is really important," says Allen.

Not one to worry about the momentum of his 'career,' Christie says, "I'm all about taking the business side of things out of the art of music."

To that end Christie has lent his talents in the recording end of things to help record several rodeo cowboys music for posterity's sake.

Climb into any young rough stock riders vehicle and you are likely to find a CD of Mel Brown's songs from his album, "1977" produced by Christie. Allen enjoys the creative process but gets most excited about the finished product. Presently Allen is making a new record for world champion saddle Bronc Rider, Mel Hyland. The compilation will revisit a few of Mel's classics and introduce a whole new generation to the music I grew up hearing around rodeo campfires.

To date, Christie has released 4 albums beginning with The Last Rodeo 2000, Allen Christie 2005, Banjos, Broncs and Buckaroos 2010 and his latest, The Brand 2013.

Listening to The Brand on my way home from lunch with Allen in Caroline, I am convinced this artist has come full circle. His songwriting and arranging on this album embraces the best of several genres from western swing, cowboy traditional to country blues/rock.

Christie is optimistic about the future of music in the Internet age. "Even if you aren't great using a computer, the internet is giving music lovers a chance to get great music into their hands without the censorship involved in records and big business.

"There are always people who would look at the Mona Lisa and say, my wouldn't that pop if it were pink! Nobody needs to tell cowboys what to sing about or how to play it," says Christie.

Watch for upcoming recording projects by Allen Christie for the following cowboy artists: Mel Hyland, Mel Brown, Scott Laitre, Malcolm McClean and Christie himself.

Lynda Thurston is a singer/songwriter from and the driving force behind Genuine Cowgirls band. Lynda also ranches with her husband Skeeter Thurston at Big Valley AB.